PRODUCT INFORMATION
CUSTOMER REVIEWS
PRODUCT INFORMATION
The robust professional solution for black coffee and water for tea
If you need a coffee machine that prepares black coffee, professionally made pots of coffee and hot water in two different temperature levels for tea, the X6 is the ideal solution.  The Professional Aroma grinder is a top-class innovation that delivers the perfect grinding result every time and 12.2%* more aroma. Its easy-to-understand operating concept is especially useful when it is used as a self-service solution for staff or guests. On the X6, all speciality coffees can be moved to a different position on the display. With its large water tank and a sturdy fresh water kit which can be added on after installation, the X6 is equally suitable for mobile use or use in a fixed location.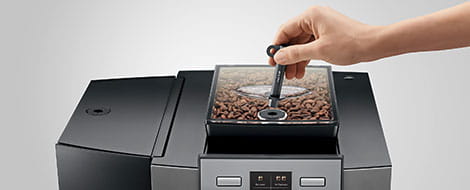 State-of-the-art technologies for perfect enjoyment
12.2%* more aroma and consistently high grind quality over the entire service life are the defining features of the Professional Aroma Grinder. The perfected grinder geometry achieves the optimum grinding curve. So: A higher proportion of fine particles in the grounds guarantees that the flavours unfold to perfection.
The Pulse Extraction Process (P.E.P.®) ensures the optimum extraction time for short specialities and delivers a taste explosion for ristretto and espresso. The X6 features a height-adjustable dual spout, which finishes off trend specialities with milk and milk foam to perfection thanks to fine foam technology. 
All control elements on the X6 are on the front, clearly visible and easily accessible. The water tank and bean container can also be refilled from the front. To protect them from manipulation, the water tank and bean container come with a locking mechanism as standard. The drip tray and coffee grounds container are ergonomically designed and can be removed with one hand, allowing them to be emptied quickly and cleanly. 
The control elements show the clarity of the operating concept. The 2.8" vertical format colour display combined with the large, easily recognisable preparation buttons make operation very straightforward, even for first-time users. The preparation and maintenance buttons can be disabled to prevent unwanted reprogramming or accidental operation while the machine is being cleaned.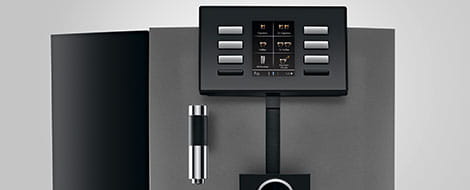 TÜV-certified hygiene guarantee
The maintenance of the X6 is just as intuitive as its operation. Integrated rinsing and cleaning programmes, used together with original JURA maintenance products, ensure TÜV-certified hygiene and cleanliness.
As individual as your requirements
The X6 can be combined with a number of accessories – specially designed for JURA professional coffee machines – to create a complete, made-to-measure coffee solution: for example the cup warmer or accounting system.
Areas of use

| | |
| --- | --- |
| Large offices | ✔ |
| Canteens | ✔ |
| Self-service areas | ✔ |
Specialities

| | |
| --- | --- |
| Ristretto | ✔ |
| 2 × Ristretto | ✔ |
| Espresso | ✔ |
| 2 × Espresso | ✔ |
| Coffee | ✔ |
| 2 × Coffee | ✔ |
| Special coffee | ✔ |
| Espresso doppio | ✔ |
| Pot of coffee | ✔ |
| Hot water | ✔ |
| Hot water for green tea | ✔ |
| Hot water for black tea | ✔ |
Specific benefits

| | |
| --- | --- |
| Number of speciality coffees | 12 |
| Active bean monitoring | ✔ |
| Transmitter supplied as standard | Smart Connect |
JURA coffee machine standards

| | |
| --- | --- |
| Pulse Extraction Process (P.E.P.®) | ✔ |
| Variable brewing unit | 5 – 16 g |
| Grinder | Professional Aroma Grinder |
| High-performance pump, 15 bar | 1 |
| Thermoblock heating system | 1 |
| Fluid systems | 1 |
| Milk system / interchangeable milk spout |  /  |
| Aroma preservation cover | ✔ |
Operating and programming standards

| | |
| --- | --- |
| Compatible with J.O.E.® | ✔ |
| Display | 2.8'' colour display |
| Programmable and individually adjustable amount of water | ✔ |
| Programmable and individually adjustable coffee strength | 10 levels |
| Programmable brewing temperature | 2 levels |
| Programmable temperature of hot water | 3 levels |
| Resettable day counter | ✔ |
| Shows the number of preparations for each individual product | ✔ |
Hygiene standards

| | |
| --- | --- |
| Intelligent Water System (I.W.S.) | ✔ |
| Filter cartridge | CLARIS Pro Smart maxi / CLARIS Pro Smart |
| Integrated rinsing, cleaning and descaling programme | ✔ |
| Monitored drip tray | ✔ |
| JURA hygiene: TÜV-certified | ✔ |
Energy standards

| | |
| --- | --- |
| Energy Save Mode (E.S.M.©) | ✔ |
| Zero-Energy Switch or power switch | ✔ |
| Programmable switch-off time | ✔ |
| Energy consumption per day (as per DIN 18873-2) | 0.170 kWh |
Design and materials

| | |
| --- | --- |
| Amber/white cup illumination | ✔ |
In figures

| | |
| --- | --- |
| Height-adjustable/width-adjustable coffee spout | 65 – 153 mm / – |
| Water tank capacity | 5 l |
| Bean container holding capacity | 500 g |
| Bean container can be optionally extended to | 1 kg |
| Coffee grounds container (approx. servings) | 40 |
| Cable length | 1.2 m |
| Voltage / power | 240 V / 1450 W |
| Current | 10 A |
| Stand-by power | < 0,5 W |
| Weight | 12.9 kg |
| Dimensions (W × H × D) | 37.3 × 47 × 46.1 cm |
| Dimensions (W × H × D) with bean container | 37.3 × 52.4 × 46.1 cm |
| Article number / product code | 15416, Dark Inox (EA) |
| EAN code | 7610917154166 |
| Country of production | Made in Switzerland |
| Model year | 2017 |